To paraphrase a popular jelly commercial, "With a name like 'Roadkill' it's got to be good." In Elberta, Ala., it is.
The diner has a fan base from across the street to across Canada. The restaurant's fried chicken – beloved bird of Baptists – is served daily as are delectable pork chops, country fried steaks, and a host of downhome, small town, big taste entrees.
Red beans and rice, catfish and mullet, sausages, biscuits and gravy, butterbeans and cabbage, fresh veggies, vats of banana pudding, and more are offered either daily or on designated days.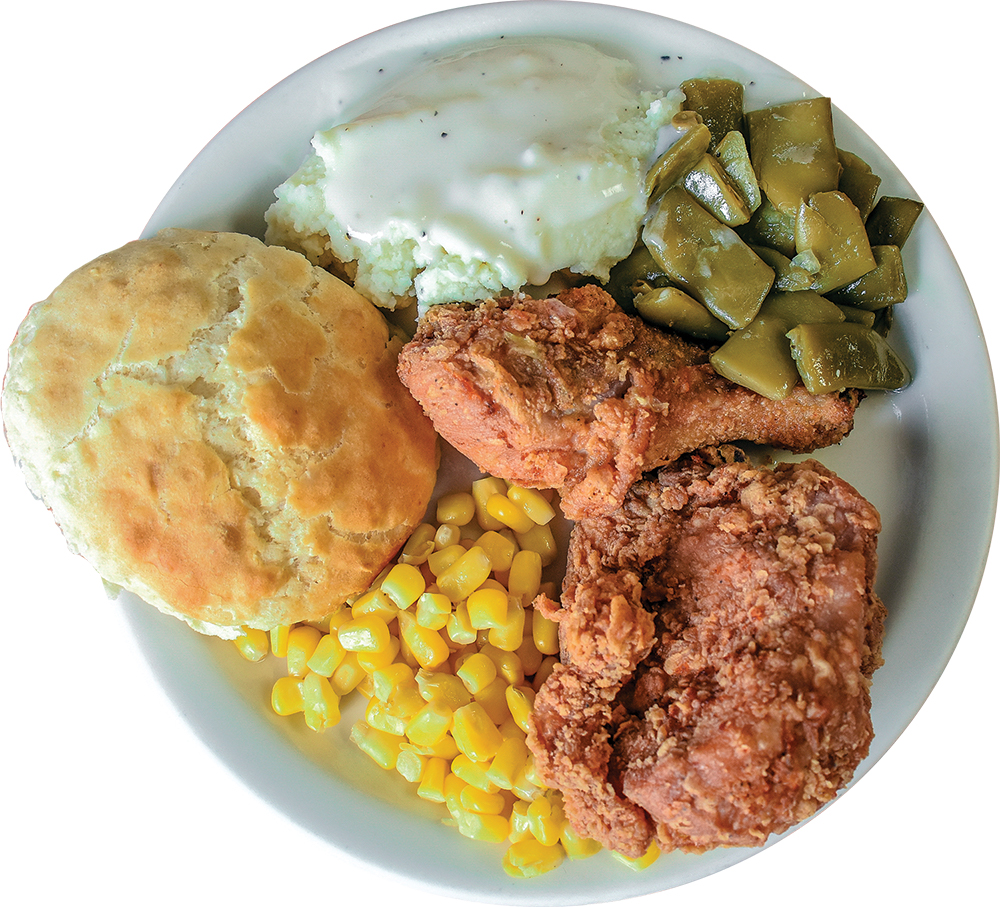 It is said that Roadkill Café's all-you-can-eat buffet is possibly the best $11 investment in Baldwin County. But I know what you're thinking: "Okay, the food sounds good, but what's up with that name, 'Roadkill?'" Fair question.
Let's put your concerns to rest. There is no roadkill at Roadkill Café, so take your armadillo au gratin business elsewhere. Here is the story of a beloved restaurant, exemplifying hospitality, serving great food, and named for woodland creatures who left this world with tire tracks.
An accidental name
Roadkill Café's roots trace back to the property's 1989 purchase. Owner and Elberta resident Marvin Williams leased the building out as a restaurant. But in 1999, unhappy with the diner's quality, Williams refused to renew the tenant's lease. In the summer of 2000, a new restaurant opened with the Williams family in charge. But it needed a name.
Marvin's son and current co-owner/manager, Mike Williams, recalls: "Getting the restaurant ready to open was hard. It was in terrible condition. Dad jokingly wrote on a piece of cardboard, 'Roadkill Café' and taped it to the front window."
Marvin's wife saw the makeshift sign and with alarm proclaimed, "Y'all will NEVER call this place 'Roadkill Café!"
Never say never. Next summer Roadkill Café will be 20 years old, and so will the name.
Mike took the reins in 2005 upon his dad's request. "He asked me to watch the place while he was in Hawaii for a week's vacation," the son recalls. Mike still watches it.
The day starts about 4:30 a.m. when the stoves are fired up. Everything is hot from the kitchen and ready for serving by 10:30 a.m. until closing at 12:30 pm. That's right, on most days you have two hours dine time. Make it count.
Ironically, even though it's about 16 miles from Gulf Shores, Roadkill is not a beach tourist attraction per se. "We are not on the 'beach highway,'" Mike says, referencing nearby State Highway 59, the Foley – Gulf Shores connection. "Beach travelers don't see us, so they don't know we are here." But everybody else does.
The dining room seats 92 and averages 70 to 100-plus visitors daily during its two-hour-per-day operation, Sunday through Friday. Sunday's closing is a bit more lenient – around 1 p.m., to accommodate after-church seating.
Roadkill does not advertise except for word of mouth, customer testimonials, and snowbird referrals. The street-facing banner sign above the front door, "Roadkill Café," turns heads as well. "People tell me they have driven by this place for 10 years," Mike says. "They were curious but apprehensive about going in something called, 'Roadkill.'" But once you're in, you return – often.
"We have been coming here at least twice a week for years," says frequent customer Brenda Myers of nearby Foley, about her visits with her husband John. "The country fried steak is great. Don't miss it."
The menu is advertised exclusively on an in-diner chalkboard. Keep your social media, for in here, chalk rules. Thursday is butterbeans and cabbage day. Fridays are set for catfish and mullet and chicken is daily. For more information either call ahead or heed the chalk.
Explaining the charm of Roadkill Café, Brenda Myers notes the restaurant's draw is beyond good food. "Mike and the people here are just so nice," she says. "After one visit you are family. By the second visit you and everyone working here are on a first name basis." Brenda adds with a laugh, "All the waitresses are sweet and sassy."
Thirty minutes after opening, the seating area is full. Happy patrons surround the buffet stations supporting the twin peaks of fried chicken and pork chop mountains and trimmings. Servers offer an insider tip: "Our chicken is delicious but so is our banana pudding. Save room!" She's right. I did.
Shakespeare once scribed, "What's in a name? That which we call a rose, by any other name would smell as sweet." In Elberta, that rosy name is Roadkill.
Roadkill Café
Address: 25076 State St., Elberta, AL 36530
Phone: 251-986-5377